Build the new
AQUAJET - X
for your kids!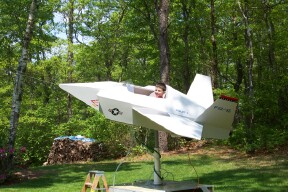 The all-new AquaJet X features super maneuverability and a water cannon!
Call1-877-477-7823 now!

See many more photos of the AquaJet X here
The new AQUAJET X, inspired by forthcoming warbirds F22 Raptor and X35 Joint Strike Fighter, provides
the next level of flying excitement and realism between the AquaJet and a real airplane.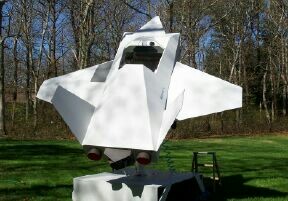 To accomplish this we added an electric leaf blower to provide vectored thrust via rudder pedals while creating the jet engine sound, and employed a more sophisticated suspension. Thus, the Aquajet X can climb at 30 deg., dive at 15 deg., bank, turn and spin up to three revolutions under full control of the pilot. A throttle actuates the lift cylinder - controlling takeoff, climb and descent so the stick can control pitch and landing flare.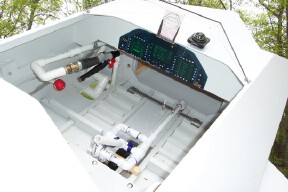 Other features include a retractable landing gear, a nose water cannon, a realistic instrument panel with heads-up display and a larger cockpit for kids up to 100 lb. You will wish you could fly it too! Note: A large styrofoam glider makes a great gunnery target. The lift cylinder may be mounted on an aircraft carrier type deck as shown or on the ground (requires a 6" dia. x 15" hole).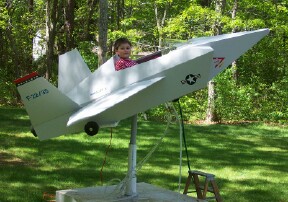 AquaJet X are easy, fun and very rewarding to build!
SPECIFICATIONS: Wingspan, 8 1/2 ft., Length, 9 1/2 ft., Width, 32", Weight, approx. 100 lb., Build time, approx. 150 hr., Water / air pressure req'd. 25 - 60 psi (max). Wings, empennage and nose are removable for transport. Construction is 1/8" Okoume or other type of marine or aircraft plywood over a pine and fir plywood frame. An air compressor can be substituted for the garden hose for indoor use. The leaf blower is easily removed for blowing leaves.

PLAN PACKAGE: includes all drawings, parts list, instructions and helpful photographs, plus a glue-on photo of a current warbird instrument panel and heads-up display transparency. Plan package (sold separately)





AIRCRAFT SPRUCE & SPECIALTY
225 Airport Circle
Corona, CA 92880
Email Your Question to,
info@aircraftspruce.com